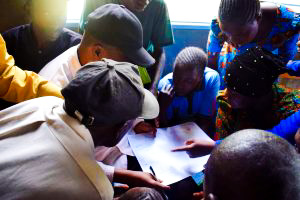 Here at the Local Electricity Project, we are just settling down after returning from a busy two weeks in Zeze, Tanzania, where we hosted a workshop to explore different ways of generating electricity. This was done in collaboration with Mboni ya Vijana Group, and Tanzania Development Trust, who both do a lot of great development work in rural areas. MVG is an organisation based in Zeze, who aim to lead youth and the community to sustainable development by tackling issues such as extreme poverty, climate change and farming.
Zeze is a small rural village in the Kigoma district of Tanzania, with no access to grid electricity. The population consists of approximately 8000 people, with the majority relying on subsistence farming. Due to lack of accessible electricity, residents face many challenges and rely heavily on kerosene lamps for lighting after dark, which can lead to health issues in children who use the lamps for studying. While some residents can afford small domestic solar systems, the cost is generally prohibitively expensive for most and so the aim of our workshop was to generate electricity using old electric motors and as much recycled material as possible
Among those present were a number of locals who work with MVG on various projects in and around Zeze as well as a number of students from the Institute of Rural Development Planning. The 20 strong group were all from a range of backgrounds and everyone had a unique set of skills on offer, which made for four diverse groups with their own thoughts and ideas.
Assisting with planning, coordinating and everything else was Benedicto – the CEO and founder of MVG, who has made it his personal mission to improve quality of life for people in Zeze and beyond. The work done so far by Benedicto and MVG includes planting cash crops, farming honey and installing a number of water pumps around the village to improve access to water.
Our main aim was to inspire people to look for new ways to generate electricity using locally available materials and so all we took with us were some nuts and bolts, a few small motors and the L.E.One.
The L.E.One is a voltage regulator that takes AC or DC electricity and converts it into useable power for charging USB devices such as phones, power banks and lights. This means that it can be used with a number of different generators, such as solar panels or electric motors, which can be recycled from otherwise discarded e-waste.
We made the L.E.One to be interacted with, modified and upgraded, and so a large portion of the workshop involved some basic soldering and a complete overview of all the circuitry sitting inside the box. Everyone was really keen to learn about electronics and assembling an L.E.One gave a total insight into how it works. Hopefully this can spark some inspiration for other electronics projects to come!
We truly believe in empowering people to solve the issues that they face through hands on experience, and by learning from iterative design and testing. Therefore, the group were given clear guidance without providing detailed solutions to maximise creative freedom. Despite lacking access to tools and materials that most of us take for granted, the ingenuity of everyone involved was more than enough to overcome any challenges and we were constantly impressed by people's ability to take an idea from conception to execution.
We started off the workshop by demonstrating the reversible nature of electric motors to power a light bulb, using the L.E.One to convert the fluctuating input voltage to a smooth 5V. The challenge was then set to create something to turn a motor by hand, and within minutes we witnessed a number of innovative methods of attaching handles to the motor shafts, all using only wood and nails.
After a brief introduction to the main components of a small-scale wind turbine, the next step was to cut and shape some lightweight blades using PVC pipe by following the instructions available here. Within no time, each group had crafted a unique set of wind turbine blades, and after fastening them together were able to see them spinning freely in the wind. All before the end of the first day!
The next challenge was then to fasten the blades to the motor and to start generating electricity. Important factors that were communicated here were precision and symmetry, as well as a general note that bigger blades = more power. Soon enough each group had created a hub after measuring and cutting some carefully selected wood found leftover from previous projects.
The main problem was creating a hub that was well balanced and symmetrical. Groups made a number of different shaped hubs, employing a variety of techniques. After some careful experimentation, these were gradually improved over the course of the workshop to be stronger and more precise. This design evolution was a common theme over the time we spent in Zeze, with constant iteration to improve power, robustness and even aesthetics.
Before we could even give an outline of the next steps, one group had already made a small wooden tower, secured a length of cable and fastened their handywork to the top. However they soon discovered that the direction of the wind is constantly changing, and so the next round of towers were made to enable the generators on top to pivot and seek the wind for maximum power.
The next enhancements included changing the shape, number and size of blades, with each new set yielding better and better results. This, in combination with stronger winds and taller, sturdier towers made for four solid wind turbines that were pretty much constantly spinning, so that we were able to power light-bulbs and charge phones using the LEOne.
The rest of the time was spent ensuring that everything produced was durable and will withstand the elements. One of the biggest issues when dealing with wind power is strong winds that occur during storms which have the potential to cause damage. A hinged tail mounted at the right angle can protect a wind turbine from damage, but designing such a system is by no means simple. Once again, each group was able to take the basic idea and construct their own unique parts to achieve the goals set. They then assessed the effectiveness and were able to make adjustments as necessary. The winds in Zeze weren't strong enough to perform any high speed tests, but the build quality of all the turbines produced gives us enough confidence that they would withstand the harshest of storms.
Our entire stay in Zeze was nothing short of incredible. We were made to feel at home by everyone there and look forward to returning. We will be working closely with MVG in the future and look forward to seeing what new creative ways people come up with to generate electricity!
If you would to get involved with the Local Electricity Project, or want to know more about what we do, we'd love to hear from you! Visit our home page or contact us.