WATER IS THE KEY TO LIFE!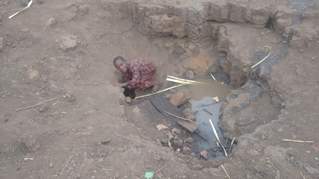 Water is the key to life, particularly in a village like Zeze, Kasulu, in western Tanzania. Many people were forced to get their water from this dirty pond shared with animals. So using donated money we drilled a new bore hole by hand and constructed this new rope pump. This was a huge undertaking for the village. Many people thought we could not succeed. We drilled by hand for 6 long days through solid rock, but eventually reached water 13m down. We learnt how to weld metal and created this pump – everyone is very happy! Grace says "My family got water from the dirty pond and my children were often sick. I thank God that we can now use this new pump and it is so easy to use." The village chairman says "I am so proud of what these youth have achieved! When I saw how slowly they were cutting through rock I thought they would never succeed to reach water, but I was wrong and the whole village congratulates them.
Now we have a reliable water source we can more easily water the seedlings we're growing. We have already distributed the first batch of water melon and tomato seedlings and the sunflower seedlings distributed are almost ready for harvesting, leading to valuable income in each family. Petronella says "with the money I will get from my sunflower seeds next month I will be able to buy school uniforms for my children, so I am very happy!"
Climate change
Streams and ponds at Zeze and neighbouring places in Kigoma region are drying as the result of climate change leading to greater challenges getting water. MVG have drilled more than 9 water wells from which the communities are using the water for development.
Almachius is the Kasulu District Development Community Officer. He knows well how much of a challenge water is for the development of Kasulu community. He visited a number of water projects where MVG has drilled and installed pumps for community use, and told the community "We have a big problem with water and deforestation but today I say we are lucky that we have youth who have made an important revolution in the water sector with their hand drilled bore holes – as no doubt all of you can see! I am very impressed they have now set up a tree nursery and are supporting their community to protect the environment. I appreciate, the work they have done. We should all participate to protect and develop the scheme which they have established, for ourselves and our children".