Brick making
The improvements in agricultural production at Zeze in Kasulu Tanzania, is making the strength and effectiveness of the supporting food production in rural societies. From 29th July to 17th August 2019, Mboni ya Vijana Group held a youth camp that brought youth from different regions of Tanzania and Britain. The camp delivered technical and entrepreneurial skill to youth so the diversifications of strategies and ideas used by Mboni ya Vijana to ensure income and food security are spreading quickly and successfully.
Matheo is the chairman of Zeze village and he has been so cooperative through the camp processes. During the inauguration of the camp which was honoured by the Regional Administrative Secretary representative for Kigoma region, the village chairman says "we value the initiatives launched by Mboni ya Vijana because have made exceptional impacts to the society. The foods for this camp are provided by the community as an acknowledgement and reward to Mboni ya Vijana for improving agriculture which lead the community to increase yields per area. If you all (participants) learn carefully and adapt the strategies used by Mboni ya Vijana and replicate it to your societies, for sure Tanzania will benefit from you."
George is one of the youth Camp Participants from Kagera region. He learned borehole drilling, rocks and ground water behaviour during the camp and he says; "My society lack water and there have not been this kind of water skills which we learned through this camp. I will adapt it and make it the community water solution at Kanyigo ward in Kagera. I am happ that my community will as well improve food and nutrition security further to improve in income and working efficiency to the households."
Radhia is a lady from Dar Es Salaam who participated youth camp at Zeze for all 21 days learning skills and observing resources. She trained in resources, finance and soap making during the camp. During the camp end she said, "It has been worth attending this camp, I know the potentials at Zeze and I am connected with these people (MVG members). I am going back to Dar Es Salaam but I will open the shop in which I will sell the products from Kigoma especially Zeze. I didn't know soap making, finance and resources recognition and use skills but this camp has unlocked me from the dark. I appreciate all the effort accomplished and will replicate it to my best level." Radhia has already started selling soaps, beans and palm oil from Kigoma following her participation to Solution Drive Youth Camp 2019 at Zeze village.
The camp involved making bricks to help Zeze Secondary School build girls hostel as the remarkable symbol of holding this camp at Zeze in 2019. For those 21 days, the youth camp managed to make 10200 bricks which burned to strengthening them. Marry is the Kitibitibi primary school teacher at Zeze village. She said, "Making bricks for girls hostel construction is the most impressive idea which gives me much passion in the future of our community. Girls are the group in the society that is at high temptation after school time. Having hostel at Zeze Secondary School will improve their performance and make girls the future national leaders. This should not be stopped and we are learning having big hearts in building our nation." Marry said.
Apart from such stories during the camp, youth who participated learned, shared and enjoyed different skills including beekeeping and honey processing, Sustainable Development Goals (SDGs), laws and environmental issues including adaptation to climate change. At finally, youth were handed with certificates of appreciation as the awards.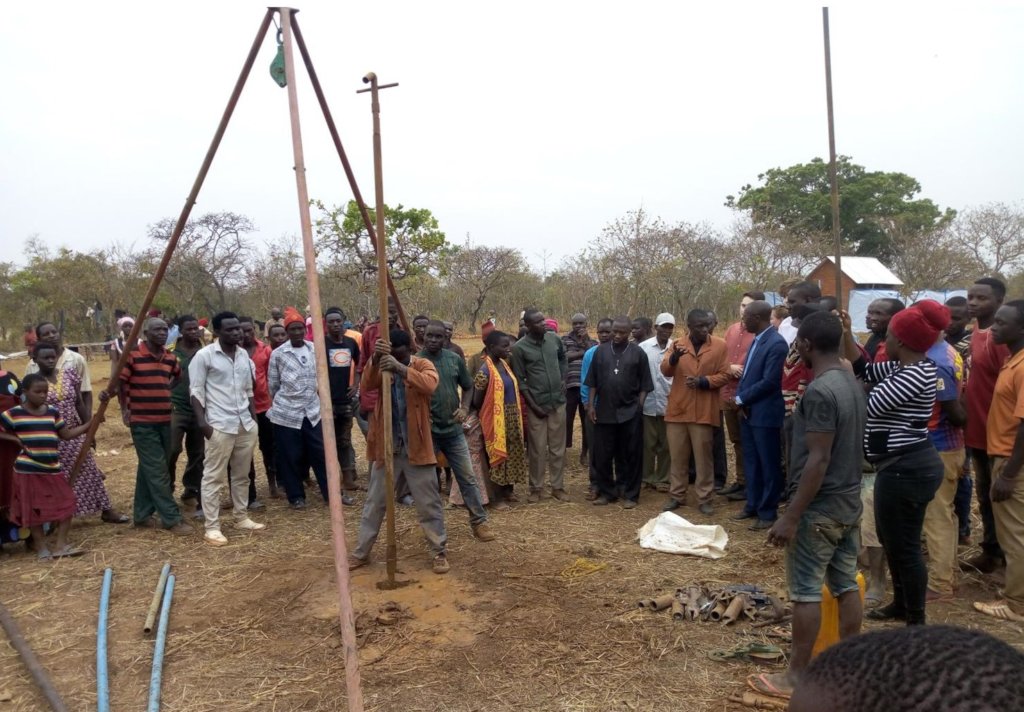 Borehole drilling lesson
Soap making lesson
Lesson on honey harvesting
Participants listening to the difference at Zeze