By Benedicto Hosea – Project Leader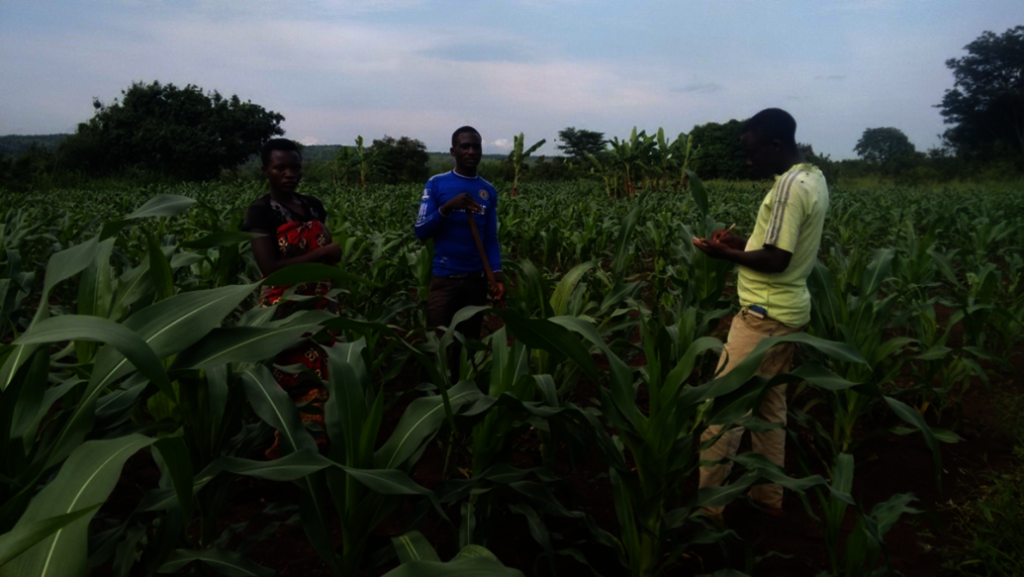 "I did not know how to adopt the best farming methods until I found other farmers benefiting from improved and sustainable farming run by Mboni ya Vijana (MVG) at Zeze. The farming results registered by MVG's beneficiaries in 2016/2017 farming season, encouraged me to adapt modern and best farming practice to increase agricultural yields for my family's food and income and I have now changed my attitude to farming. My maize farm gives me happiness and health and my family is getting enough food and income this year from my farm crops. I have never been able to have good maize farm like this I have this year." This is the narrative by Steven when I visited his maize farm in February 2018. Steven is a 27 year old married with 2 children. He is a peasant who has used traditional farming methods since he started farming at the age of 16. He has never harvested more than 2 maize sacks per acre but this year he is going to harvest more than 16 after his sustainable farming training and isupport from MVG.
Yudesia is an old female aged 60 living with 2 grandchildren and her husband. Before MVG started supporting her she was unable to feed them or send them to school due to poor agricultural production. She now says; "I have never seen good maize like these of this year. The training I got on sustainable farming and farming implements such as improved seeds and fertilizer are making a huge difference to all our lives. I am going to harvest huge maize that will help me and my family for all the next year." As the farm looks, Yudesia is likely going to harvest between 15 and 24 sacks of maize in April 2018 from the acre on which she has previously been harvesting less than a sack of maize in a year.
Hwago is a married man with the family size of 9 persons. He is managing 1 acre with better farming methods as directed to by MGV. Hwago is pleased to have that opportunity which he has never got for 42 years of his working on farming sector. Field visit made by Mboni ya Vijana Group to monitor clients progresses, reached Hwago and his feelings toward the scheme and his farm been these; "I am older enough I have many experiences in farming at Zeze. I have never had good farm like this despite that it is attacked by armyworms. I have no one children went to Secondary School because I have not financial ability to do that. To get food only for my family, needed me to work to someone's' farm and get paid for food. I hadn't enough time to work on my farm than paying labour to other small farmers. Even the small scale I managed, I harvested very little to support my family. Good luck, this year I am proud of this scheme. I have not yet harvested but I have much courage to succeed like other who have succeeded in the last spell. The reality is that, we are not the past but we are the new generation." Hwago said.
Ibrahim Ashery is a single young man aged 22 years old benefiting with sustainable farming managing one acre under the scheme. He is very well focussed to change his life before having a marriage through agriculture. Here is his story; "I am still a young man and I have not went even to school for secondary education because of my parent's income poverty. I cannot compete for formal employment than competing in agricultural production and business. I am very luck that we have this sustainable farming scheme at Zeze and I am the one among other beneficiaries. I am changing my life and my future family. The training and farming implement support I get from Mboni ya Vijana, is the complete liberation. I am sure, I am no longer absolute poor but I am the next farmer's leader." Ibrahim stated. His farm is very good with maize and he expects to expand it in the next farm season if he is blessed to best health.
"It was difficult matter to understand the opportunities in Agriculture before the interventions made by MVG to impact farmers" was the statement Felis made when visited at his farm and asked how he considers the scheme. "Last year I was supported in improved farming methods education and implements to maintain one acre. I harvested 18 sacks of maize from which I sold 10 sacks with the price of 78,000 TZS per sack. I made money worth 780,000 TZS while remaining with 8 sacks for food. Before the scheme, I had the ability to make 230,000 TZS only from agriculture. From there, I recognized that agriculture is the only employment that can give me better life. I have expanded my farm from 1 acre to 4 acres this year which I am with improved farming techniques. I am sure I am going to build my house and start new business from the yields of this year. Felis is just a 22 years old man born and living at Zeze village who got married after the first harvest in the last year.
Improved Small Scale Farming (ISSF) scheme is becoming popular at Zeze village and Kasulu district as well following its impacts to the community. Many people are adapting to its strategy to make difference in their lives from the lessons learned from the scheme. Instead of being supporting maize farming only, the scheme is embarking as well on beans and sunflowers production so as to expand the rooms for clients to run business farming and improve their families' ability to meeting both food and income demands.