This year has certainly been like no other! And we are all probably at the point of wanting 2021 to come around so we can hopefully try and get back to some sort of normality. But, despite our social distancing and isolation making it feel like the world has come to a stop, many things in the world has not. Climate change and the need for our help has not stopped. And neither has our ability to communicate and learn from one another.
At the beginning of December, we took part in Climate Stewards' Global Gathering 2020 – via our computers, of course.
Various people from multiple organisations from ten different countries and six time zones gathered to discuss their projects on carbon offsetting, including planting trees and creating smokeless and fireless stoves for communities; celebrating successes, and discussing best-practices and what we had learnt from obstacles that they had faced.
Janet Chapman, chair of Tanzania Development Trust, spoke on behalf of our founder Benedicto Hosea who was unfortunately unable to attend. After giving an overview of MVG's origin from Benedicto's insightful vision to the projects we work on today, we turned to focus on a particular project of ours – tree planting.
The numbers to date are quite inspiring – 67,000 trees planted so far, with 9,100 of them being fruit trees; and our project with Climate Stewards has involved us planting a total of 13,500 native trees in two locations – the MVG site, and the secondary school. That's a lot of fruit fed to our community, a lot of trees to help our biodiversity and combat climate change, and a lot of carbon that can be offset.
Of course, our community has faced its challenges throughout our project. We are a very poor community, and the main priorities of many people who have land is to grow crops to feed their families and try to provide income.
There was an unawareness to the value of trees which would restrict the amount of planting. There is illegal logging nearby, which isn't helped by wood being the primary source of fuel to cook with. And there can be issues with droughts and termites that can cause the trees to die.
However, with every challenge that is faced there is an opportunity to learn and grow, and as we persevered with our project, sometimes with different tactics, we learnt some interesting lessons.
Education around climate change and the value of trees became vital, and the more we educated, the more people started seeing the value of trees. We have also helped to train people in using trees as wind breakers around their farms, increasing their practicality and thus encouraging more people to plant them. Our youth camps have been very successful and have brought youth from all over the country to participate in, as well as university students and government officials to work on education and practiced measures around climate change adaption.
We have also learnt that the time that we plant trees is extremely important because of the need for water, so we are doing a lot on gaining better rain forecasting, planting near water sources and using particular drought tolerant trees. A local plant called myaa is used, by planting them near to the trees they provide protection from termites.
And finally, an innovative method of protecting the trees has been placing beehives in the trees at critical locations. Whilst some people might be afraid of the bees, the beehives are a source of protection predominately because they are also a source of income and thus people will not cut the trees down.
This gathering was a fantastic opportunity to not only share our own lessons and practices, but also hearing about others'. After all, it is not only from facing challenges, but also from engaging with others that we learn and progress. We have set a big goal this year in our project, hoping to plant 200,000 trees within three years. But with every challenge that has faced us over this past year, we know that engaging with and supporting one another is more important than ever. Whilst we may have to be physically distanced, we seem to be connecting with one another more than ever – something that is vital for all of us. Hopefully, we can continue to share our best practices, tips for overcoming obstacles, and things that we have learnt along the way, so that we can all progress within our projects, and help heal our world.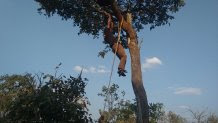 And on Benedicto's behalf, and all those at MVG that are working hard to look after our planet and combat climate change, we would like to thank Climate Stewards and express our vast gratitude for their support in our project and in helping transform our community in Zeze.